One Tube Send/receive Ham Radio 12sn7 Regen Radio/transmitter 160 & 80 Meters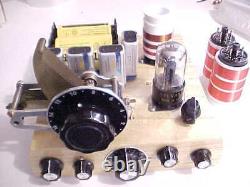 I made this mainly as an experiment, but it does work. Perhaps more nostalgic than practical, but typical of the late 1920's and 30's where you simply had a Hartley triode master oscillator, coupled to a transmitting antenna. With this project I used the second 12SN7 triode for a regenerative receiver, which also has a one transistor audio headphone amplifier.
It has a dc to ac inverter circuit for the transmitter power supply, which uses a 6.3 volt transformer, 3x Li-on 3.7 volt rechargeable batteries, and 4 lithium-ion 9 volt batteries. I recommend using only rechargeable batteries. So this little rig is totally self-contained for power, no ac hookup necessary. Even though it is battery powered, you will still need to use the same safety precautions afforded any electronic equipment with high voltage. The no load output from the power supply is about 250 volts dc! So it can be LETHAL if you do not handle it with proper respect!
I get about 2.5 watts input on 80 meters, and typical of the simple Hartley oscillator type transmitters in the early days of radio, you will get a sort of sing-song cw tone, along with a hint of chirp. Once you learn how to adjust and control the antenna coupling the output signal is acceptable on air, even though not quite what hams are used to, compared to crystal control. Transmitter output power will be in the range of a few hundred milliwatts, but keep in mind that in the early days of radio in the 1920's hams often worked DX with only about 1/2 watt input, using similar transmitters. The 9 volt batteries will run for many hours (sometimes days) before needing a recharge, but you'll need to change out the larger 3.7 volt batteries (26550 types) about every 2 hours of continuous operation.
This is so due mainly to the 300ma filament current required for the 12SN7. In regen receiver mode the dc inverter circuit is off. The high voltage inverter comes on only when the switch is in transmit mode.
I get about 225 volts dc from the power supply in key down transmit mode. You only need one antenna for both receive and transmit. Assuming you have a ham radio license, with the large master oscillator (brass plate capacitor) you can tune the transmitter to the 160 and 80 meter bands for cw transmission.
One of the coils will also transmit on 40 meters, but as might be expected with this type of oscillator, the tone deteriorates considerably once you get above 4 mhz, so I recommend using the transmitter only for 160 and 80 meters. The regen receiver is about what you'd expect for one triode, followed by one single stage of audio amplification, using a single transistor. However, there are times when I can copy weak cw signals with the regen when they are hardly even detectable on my old Kenwood R-1000.
You will need high impedance headphones for the receiver, either the old 2 to 4K ohm inductive types, or headphones with piezo elements. Headphones and batteries are NOT included in this listing. A hand-sketched diagram of the full circuit will be provided to the purchaser of this item, along with a locator drawing for all the controls and connectors. This item is in the category "Consumer Electronics\Radio Communication\Ham, Amateur Radio\Ham Radio Receivers". The seller is "dwight8941" and is located in this country: US.
This item can be shipped to United States, China.
Type: HAM RADIO RECEIVER/TRANSMITTER