KO Propo EX-NEXT 8-Channel 2.4GHz Transmitter KR-420XT Receiver x2 #KO-10683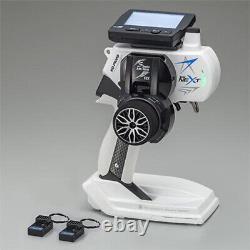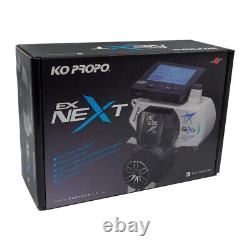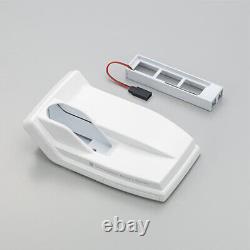 This is KO Propo EX-NEXT 8-Channel 2.4GHz Transmitter w/ KR-420XT Double Receiver BT Stand Set. You can choose and use from "XT advanced mode" which is the world record response for one way communication and "XT telemetry mode" which is compatible for Telemetry (2 ways communication). An all new control software and radio communication software of the EX-NEXT has been developed. World record communication response and High resolution control are installed.
"XT Advanced mode" that is the highest speed in EX-NEXT is about 3 times the speed of the EX-RR. The performance far exceeds the conventional high-speed communication. High-speed communication in the XT advanced mode improves the information density that will be sent to the receivers.
You will feel a "Fine and smooth maneuvering feeling" by unprecedented high-definition and high-resolution control when operating. EX-NEXT supports "XT Telemetry mode" that uses 2-way communication. When "4S series servos" that support serial compatible are connected to the B/S port in the new receiver KR-420XT, you can use "REAL TIME ICS". So, you can easily change parameters of servos from the transmitter without accessing the car directly.
Setting your car with more freedom and more detail without compromise. Also, even using the XT Telemetry mode that is 2-way communication, the High-speed response is still faster than the EX-RR. Currently mainstream servo control method is performed by PWM control.
PWM control method uses pulse width to send position of servos output from receiver. Serial control method uses a digital signal value to send the position of the servo output. So, communication speed of the Serial control method will be significantly faster than a PWM control method, time of the servo's action from your operation input is shorter. Operating feeling will be ultra high speed like operating thecar directly.
EX-NEXT & KR-420XT support the use of HCS that was adopted from the RSx3, BSx3 series. Until now, it was necessary to change the receiver mode using the setting device, but with EX-NEXT this can be changed from the transmitter for each channel. HCS compatible servos are automatically change to HCS mode when the received signal is HCS. If you want use HCS, please connect servos to 1-4ch of the KR-420XT.
You can use different kinds of servos by changing the response mode to "Normal mode". So, you can use most current servos and ESC with EX-NEXT. In this case, please connect to 1-4ch of the receiver. If you change the response mode of EX-NEXT from NORMAL to XT advanced mode in the radio settings, the maximum movement degrees of servos are limit to maximum about 42 degrees and will change. So, if you use NORMAL mode were commended setting to XT telemetry mode in the radio setting.
In case of using an ESC, there is no chance of using over a travel limit, so there is no problem using with XT advanced mode. KR-420XT supports "REAL TIME ICS" that is a new serial communication to servos. You can use "REAL TIME ICS" by connecting to the B/S port using the BSx4-one10 Grasper2 that supports serial communication.
There is only one B / S port, but you can connect two or more devices by changing the device ID number and using a twin extension cable. You can use "REAL TIME ICS" in a GP car or other categories too. The ultra-compact receiver KR-420XT, which is equipped with the latest devices abundantly for the EX-NEXT.
While maintaining the same footprint as the KR-418FH compact receiver, which has been very well received, the connector mounting height has been reduced, and the total volume is smaller then before. 5 Connecting ports for servos or ESC are equipped. Also, unused connecting ports can be use to power cooling fans and transponder for lap counting systems. KR-420XT has the capability to install an antenna pipe to receiver case directly just like the KR-415FHD, which has been very well received.
The footprint is the same as the conventional model KR-418FH, but you can save the trouble of installing an antenna mount. The UI (user interface) of the setup switch and pilot LED hasalso been reviewed. Equipped with a vibration motor that has been requested.
This can be used for alarms that notify the running time and alerts for various sensors. In addition, the LED on the front of the master unit is a full-color LED.
The radio wave mode in use and the alert content of the vibration motor can now be identified by the LED lighting pattern. EX-NEXT is equipped with the evolved "LCD Xpansion unit 2 EXP-201" as standard equipment.
New telemetry, XT radio mode, supported menu, and also the newly added setting function for ICS compatible servo are standard. Serial compatible servos which support "REAL TIME ICS" and conventional ICS compatible servos can be used. Change settings of an ICS servo by only using the Xpansion unit 2 without using a PC or servo model selector. Prevents deterioration of durability and operational feeling due to wear, which can be said to be the problem of contact sensors. Along with smooth operation feeling by smoother sliding, we realize high durability that is approximately 100 times compared with the prior sensor.
Therefore, the best feeling of operation can be maintained for a long time. In addition, the new sensor outputs a more linear signal to the Master Unit. You can control the ESC and servo with a detailed operation sense. A realization of a sense of unity between people and cars.
The number of ball bearings supporting the steering shaft has been increased from one to two. The double-support type supports higher precision operation and reliability. The normal spring included in the extension unit has been modified. The previous spring used was a progressive spring becoming stiffer as the wheel angle increased, but the new softer spring give a linear stiffness as the wheel angle increases. Since the spring tension can be adjusted, you can set the spring tension to your personal preference. Equipped with a new standard "XT" that achieves the fastest communication speed in the industry? High speed supported by Serial servo.
Equipped with a terminal compatible for serial communication. Install antenna pipe to receiver case directly. Pairing device without Power cycle.
Intuitive alert function with vibration and full-color LED. Xpansion 2 that can change the ICS setting of the servo is standard equipment. New Drop down extension Unit 2.1. Superior durability and operation feeling led by new angle sensor. Increased the number of ball bearings that support the steering shaft for higher accuracy.
The soft spring which can be operated with a constant tension. Dimensions: 240.5 x 163 × 107.2mm (Does not include protrusions).
Weight: 551g (battery not included). Channe: PWM 4ch/ Serial 8ID Maximum setting ID number of serial are different by each products.
Master Unit EX-NEXT (1 pc). LCD Xpansion Unit2 EXP-201 (1 pc).
Aluminum Steering Wheel5 (1 pc). Drop down extension Unit 2.1 (1 pc). Expert grip unit 2(White Version) (1 pc). Battery Stand Unit (White Version) (1 pc). Battery box (for AAA Dry batteries) (1 pc).
This item is in the category "Toys & Hobbies\Radio Control & Control Line\RC Model Vehicle Parts & Accs\Control, Radio & Electronics\Receivers & Transmitters". The seller is "rcmart" and is located in this country: HK.
This item can be shipped worldwide.
Fuel Source: Electric
Scale: 1:10
Gender: Boys & Girls
For Vehicle Brand: Any Brand
Type: Radio System
Compatible Vehicle Type: Buggy, Car, Crawler, Drift Car, Formula 1, M-Chassis, Monster Truck, Motorcycle, Pan Car, Rally, Rock Crawler, Short Course Truck, Touring Car, Truck, Truggy / Stadium Truck
Compatible Brand: For Any Brand
Compatible Fuel Type: Electric
For Vehicle Type: Buggy, Car, Off Road On Road, Touring, Truck, Truggy
Compatible Scale: 1:10, 1:12, 1:14, 1:16, 1:18
Color: White
Brand: KO Propo
MPN: KO-10683