Ham Radio Qrp Cw Transmitter/regen Receiver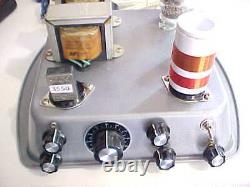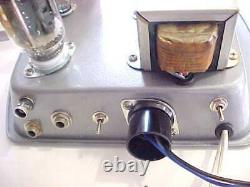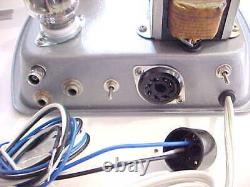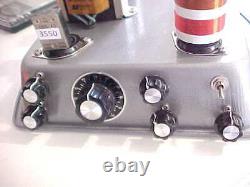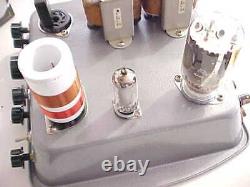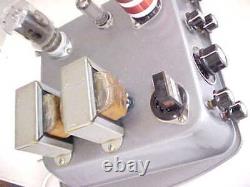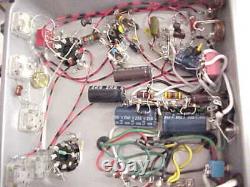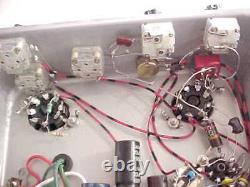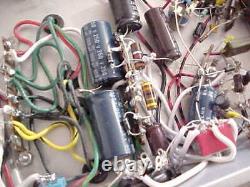 This item has exposed high voltage underneath the chassis. As with any ac powered ham radio equipment, it can definitely kill you if you do not handle it with respect. So I wanted to find out what one of these little sweep tube compactrons would do for a QRP cw hf transmitter. For this circuit I used a 53HE7 vacuum tube for the transmitter and a 6AK6 pentode for the regen receiver. My goal was to power both the receiver and transmitter from dc power, using only enough voltage to operate the 53 volt sweep tube filament.
In that mode it works very well. On 80m cw I get about 1.65 watts output using a 50 volt external dc power supply, via the wiring harness that you see in the photos. The 6AK6 regen receiver works quite well from this same 50 volt line, but requires a separate 6 to 7 volt dc source for the filament. The wiring harness has 2 separate line voltage inputs, one for the 53HE7 filament and plate voltage, and a second input for the 6.3 volt 6AK6 filament, along with a third wire for the ground return common.
The ac power supply (see 2x transformers in the photos) was an afterthought, as I wanted to have a higher voltage to see what the 53HE7 tube would do for a stand alone cw transmitter. I used a transformer tap that gives me about 125 volts dc key down voltage, which produces about 14 watts RF out on the 80 meter band in the ac powered mode. There are several filament and high voltage taps available in this chassis, along with spare pins on the octal power socket, in case you want to use the ac supply for other possibilities. At one point I used a spare voltage tap to provide about 250 volts dc to the 53HE7 tube and was getting over 22 watts RF output on 80 meter cw. However, since there's no screen dropping resistor in the circuit I felt that was pushing the tube too hard, so, as wired, it uses a lower voltage ac tap, delivering around 125 volts dc, key down. However, you CANNOT USE THE REGEN RADIO in the ac transformer power mode due to the ac magnetic field generated by the transformers. The audio hum is terrible in ac mode, rendering the receiver completely unusable by that power method. Switches on the back panel of the chassis switch from ac to dc mode. The 6AK6 pentode receiver works quite well when powered with a well filtered external dc supply or batteries.
I have also added a simple one transistor audio amplifier so as to provide reasonable volume to the high impedance 2 to 4k ohm audio output jack. You do not need a separate supply for the transistor amp. It works off the same power sources as the 6AK6. With the transmitter in QRP mode I was able to load up on 80 and 40 meter cw.
At the high end of the 40 meter coil tuning range, using my long wire antenna, I can get the transmitter to load up on 30 meter cw. So I will throw in a 10.111 mhz QRP crystal if you want to give 30 meters a try, though for best performance you might need to wind a separate coil for that band, depending on your antenna setup. The plug-in coils are simple to make, so no reason why you couldn't also make one for 160 meter cw operation, using #22 or 24 magnet wire.
The transmitter plate circuits uses the standard Pi-network output for RF out to the antenna. You do not need separate antennas for transmit/receive. A front panel switch allows easy transfer from transmit to receive, using the same antenna. You do not need to have this transmitter/receiver plugged into ac power to operate.
You'll need an external supply (or batteries) capable of about 45 to 55 dc at about 400 ma, and a second source of 6 to 7 volts dc at 250 ma for the 6AK6 filament. I will provide a hand sketched schematic diagram of the radio, plus drawings showing the various controls and connections on the chassis panels. Along with the 3 plug-in coils you will also receive 3 QRP crystals, one each for 80, 40 and 30 meters cw. Again, no power source or headphones are provided with this listing.
I have moved on to other projects, so hopefully somebody will be able to make good use of this item, rather than having it collect dust on my ham shack storage shelf...... This item is in the category "Consumer Electronics\Radio Communication\Ham, Amateur Radio\Ham Radio Receivers". The seller is "kw7t_cw" and is located in this country: US. This item can be shipped to United States.
Model: homebrew
Band: HF
Type: ham transmitter/shortwave radio
Supported Modes: CW
Brand: homebrew