80/40 Meter Cw Qrp Battery Powered Ham Radio Receiver/ Transmitter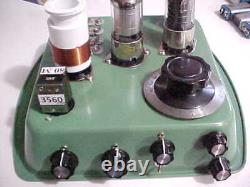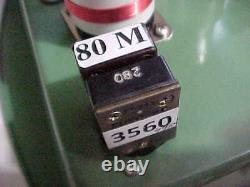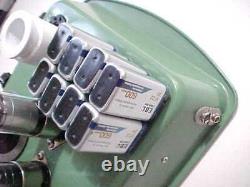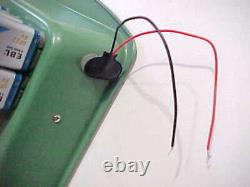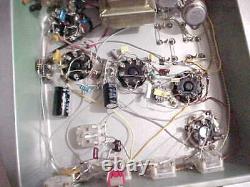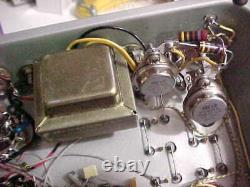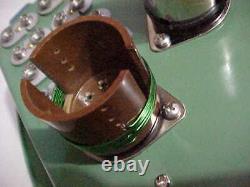 This item has exposed high voltage underneath the chassis. The circuit has a battery powered dc to ac inverter, and the no load dc voltage underneath the hood is over 200 volts.
So even though the power source comes from harmless low voltage batteries it can still be lethal if not handled responsibly. This is a vacuum tube ham radio QRP cw transmitter and regen radio. Patterned somewhat after the Paraset Spy radio, it uses two 12SJ7/12SK7 pentode tubes for the receiver and a 35L6 in lieu of the 6V6 for the transmitter. It has a Pi-network output tank circuit for harmonic reduction. With my bench top 32 volt dc power supply I get about 6.75 watts out on 80 meter cw.
With a full set of freshly charged 9 volt batteries installed I get about the same power out, running strictly on 8 nine volt batteries. This was a bit of an experiment, just to see how well a dc inverter would function for a receive/transmit circuit.
The inherent problem with regen radios is that it is difficult to run them with rectified dc from an ac transformer located on the same chassis. I gave up with that sort of design, as any sensitive regen typically picks up a horrid ac background hum.
So this regen runs strickely off battery power (or imported dc from a separate power supply). This eliminates the hum problem, since, in transmit mode, this is the only time that the dc inverter is running, at which time the send/rec switch mutes the headphones. The inverter, which powers only the transmitter tube, turns off instantly when switched to receive mode. The dc power converter can be powered with the 8 nine volt Li-on batteries installed (batteries not included). However, this is not very practical unless you can find some really high capacity rechargeable batteries.
The ones that I have are 600mah types, which will power this station for about one hour before needing to be recharged. Figuring this might be the case, I included a single battery connector on the rear of the chassis so you can leave the batteries out and power the chassis with a 30 to 33 volt well filtered dc source (1.75 amp current capacity). The dc inverter circuit employs a pair of 2N3055 power transistors, working with a common 25.2 volt (117v primary) filament transformer. The output is then rectified by a 1N4007 diode, then filtered.
This little rig loads up nicely on 80 and 40 meters, with the plug-in inductors and 2x QRP crystals provided (one for each band). In my experience I have very little issues with chirp when using the 49/U QRP crystals. On those occasions when I get a hint of chirp I can usually tune it out by careful adjustment of the plate input capacitor to the Pi-network tank circuit. With the receive plug-in coil provided you'll be able to tune the receiver from about 2.85 to 9.4 mhz.
I'll also throw in an extra coil that I found in my junk box which works well and will tune to about 15.7 mhz. No reason why you couldn't make more coils, as desired.
I borrowed a coil from one of my other radios (not included) and could tune all the way down to about 440 khz, below the 630 meter ham band. By the way, for clarifying cw and ssb signals, it has fine tuning on the front panel. I will include a hand-sketched wiring diagram of this item, plus a sketch of all control panel functions. The item "80/40 METER CW QRP BATTERY POWERED HAM RADIO RECEIVER/ TRANSMITTER" is in sale since Thursday, June 17, 2021. This item is in the category "Consumer Electronics\Radio Communication\Ham, Amateur Radio\Ham Radio Receivers".
The seller is "kw7t_cw" and is located in Grand Junction, Colorado. This item can be shipped to United States.
Model: homebrew
Band: HF
Type: ham transmitter/shortwave radio
Supported Modes: CW
Brand: homebrew