YMOO 2.4Ghz Wireless Audio Transmitter Receiver for TV, 192kHz/24bit HiFi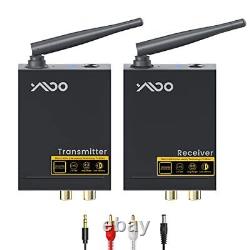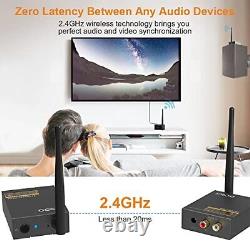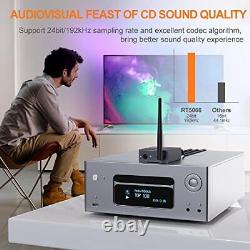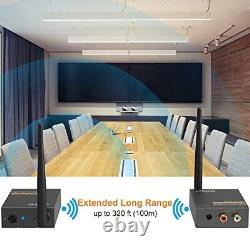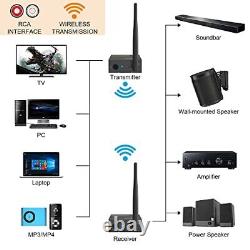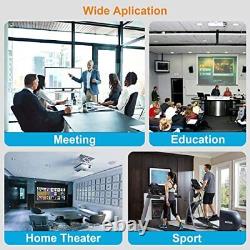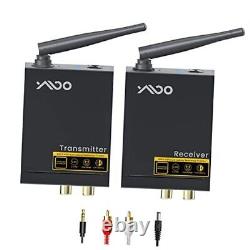 YMOO 2.4Ghz Wireless Audio Transmitter Receiver for TV, 192kHz/24bit HiFi. YMOO wireless transmitter receiver kit design with????? Safe enough, anti-drop and anti-collision. RCA input and output can easily connect with your TV, DVD, transfer audio wirelessly to a powered speaker, active subwoofer, soundbar. Transmitter is for your TV/PC, Receiver for your speaker. Wireless transmitter and receiver will automatically turn on and automatically connect. YMOO wireless transmitter and receiver use 2.4GHz technology, within antennas can reach 320 feet (100m) and 100-200 feet (30-50m) across wall. Enjoy silk like fluente music throughout the house without worrying about audio loss or signal drop-off.
Supported by 2.4GHz transmission technology, YMOO wireless audio transmitter and receiver delay is less than 20ms. Streaming high-quality audio up to 24bit / 192kHz, eaqual to CD quality, even better.
Transimission sound is clear, stable, noise-free, and audio synchronization. Strong anti-interference technolgy no matter at home or office, you can enjoy excellent audio quality. Abosolutely the dream solution for wallmount speaker or backyard speaker cables messy.
A wireless audio transmitter and receiver provide you the best solution to connect your active subwoofer / PC / MP3 /speaker and your home stereo wirelessly. Dual RCA cables are not included. Both wireless transmitter and receiver equiped with 3.5mm and RCA Jack, also product come with?
Connect with any ome stereo, speakers with 3.5mm aux and RCA input. As our valued customer, we will do our best to make sure the product you receive arrives to you on time and as expected.