164FT HDMI 4K@30HZ Over Wireless Transmitter / Switch Receiver Kit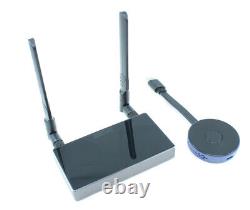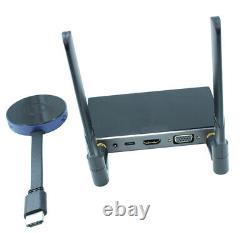 Connect your source device via HDMI connector (such as computer, laptop, or other HDMI device) wireless to a display destination using either HDMI or VGA. Starter kit includes ONE transmitter and ONE receiver. Additional transmitters (up to 4 total) can be inchswitchinch connected to the receiver wirelessly. Compatible with computers, Macs, and smartphones that support HDMI out.
Supports switching mode with up to 4 source devices (1 transmitter included). Receiver supports both HDMI and VGA outputs.
This is connector to a monitor or projector. Transmitter supports HDMI input only. This is connector typically to a laptop or computer.
Low latency and sync for video and audio signals. Max transmit distance: 164ft (50M). Your distance may vary depending on environment. Perfect solution for meeting rooms allowing multiple devices to present (1 at a time). Estimated ACTUAL Quantity Available: 9.