Spektrum NX6 6-Channel System with AR6610T Receiver SPM6775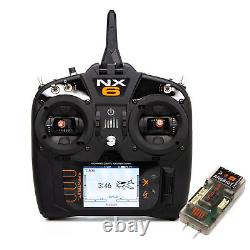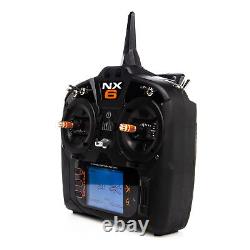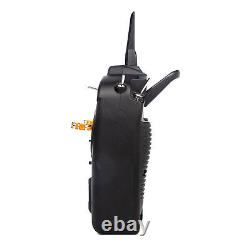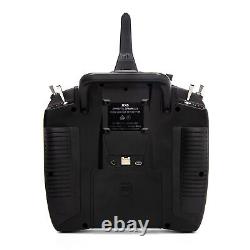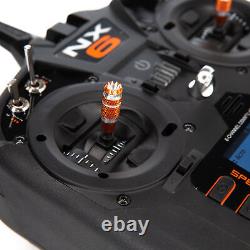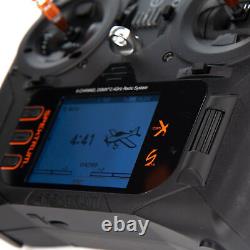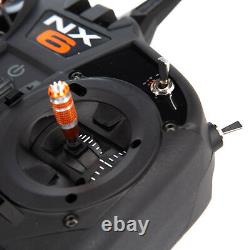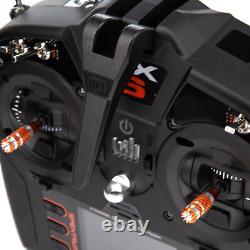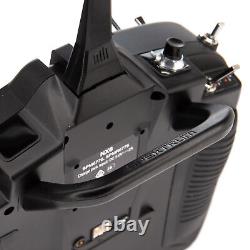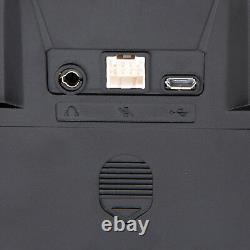 The NX6 is an evolution in SpektrumT air radios that for the first time builds the connectivity and telemetry advantages of Smart Technology into a 6-channel transmitter. It's perfect for any pilot who wants easy programming plus advanced features.
Spektrum NX6 6-Channel DSMX Transmitter with AR6610T Telemetry Receiver, SPM6775. High-resolution, backlit, 3.2 color display screen. Wi-Fi connectivity for easy product registration, model downloads and firmware updates. Smart Technology compatibility out of the box. USB port for charging and data transfer, and for use with any simulator that supports USB game controllers (including the RealFlight® RC Flight Simulator).
Spektrum is proud to introduce the latest leap forward in Spektrum RC technology - the NX Series of aircraft transmitters. The NX6, NX8 and NX10 equipped not only with the greatest Spektrum RC flight innovations up to now, but also, with new features and advances that will take you into the next generation of radio control. With the SpektrumT NX series, you'll enjoy the 6-channel, 8-channel or 10-channel versatility needed to operate your models to their fullest potential and to fly complex aircraft such from EDF's to giant scale balsa airplanes. And that's just where its next-generation "NX" series advantages begin.
The NX transmitters also incorporates many of the latest exclusive SpektrumT innovations for a level of ease, efficiency and performance you'll find in no other transmitter. 3.7V 2000 mAh 1S Lithium Ion transmitter battery included. Integrated serial port for supporting 3rd party modules.
Serial port does not provide power, external power source is required. The NX6 2.4GHz DSMX® radio marks an evolution in SpektrumT air transmitters for new to intermediate-level pilots. It's the first 6-channel radio in the Spektrum lineup to be equipped out-of-the-box with Smart Technology compatibility.
The NX6 therefore comes ready to provide the advantages of state-of-the-art connectivity and telemetry - just pair it with Spektrum Smart batteries and Smart AvianT ESCs. The NX6 radio's Wi-Fi connectivity adds more convenience. In addition to completing product registration straight from the transmitter, you'll be able to download firmware updates instantly.
It's a totally modern user experience with some of the same features found on the top-of-the-line Spektrum iX Series radios. Proven Spektrum radio expertise is also evident in the NX6 transmitter's ergonomic design. Its contours, balance, and control positions combine to add precision to your inputs and offer unparalleled comfort. An easy-to-use roller wheel interface simplifies programming, with a large 3.2, high-resolution color display to make menus easy to read. Spektrum even includes a rechargeable 1S 2000mAh Li-Ion transmitter battery.
The NX6 is the Smart choice in a 6-channel air radio, delivering unexpected power and the innovative connectivity available only from Smart Technology. It's available as a transmitter only or packaged with the Spektrum AR6610T 6-channel DSMX®/DSM2® receiver - which is compatible with Spektrum AvianT Smart ESCs for experiencing the full benefits of flying "Smart".
The SpektrumT NX6 comes ready to provide the advantages of state-of-the-art connectivity right out of the box by supporting the innovative, all-in-one telemetry of SpektrumT Smart batteries, ESCs and receivers. Smart Technology ensures that all of your model's electronics work together seamlessly for the greatest efficiency and performance. It keeps you aware of every component's status, boosts your confidence in its capabilities, and makes your entire system more responsive and simple to use. When connected to Wi-Fi, the NX6 transmitter gets even smarter.
You can complete product registration right from the transmitter and download firmware updates instantly. A micro USB port allows you to charge the internal Li-Ion battery with an ordinary USB-to-Micro USB cable. It can also be used to recognize accessory devices and provide a convenient link to your PC or laptop.
Connect the NX6 transmitter to your computer and you can control most simulators, including the RealFlight® RC Flight Simulator. Currently compatible only with RF8 and RF9. With voice alerts, the NX6 lets you keep tabs on important functions without ever taking your eyes away from your aircraft. They can be programmed to call out what flight mode you've chosen or to report telemetry information on demand.
If an alarm goes off, you won't have to look at the transmitter display to see what's happening - the NX6 will tell you. A headphone jack allows you to monitor voice alerts using earbuds so you don't bother other pilots. The NX6 offers 10 flight modes for airplanes, 10 for sailplanes, 5 for multirotor aircraft, and 4 for helicopters.
Six programmable mixes are available. Channel 7 can be used as a two or three position channel for SAFE select or flight mode selection for our BNF aircraft, freeing up the primary 6 channels to use for control surfaces. Navigating program menus is made easy by the transmitter's large, 3.2 color display and a roller-wheel scrolling interface with Clear, Back, and Function buttons.
Function bar options include Telemetry Ticker Tape for following real-time telemetry data and "My List" to give you quick access to the menu items you select, organized however you wish. You'll have quick, uncluttered access to the features you use the most!
The NX6 transmitter's weight distribution and switch placement (three 2-position, five 3-position) have been optimized for your comfort and precise, fatigue-free control. Rubber grips make it easy to hold the radio securely. Its antenna folds conveniently to the front for compact storage and transport. It also helps to prevent accident powering on by partially blocking the power button.
The wireless trainer link allows instructor pilots to wirelessly "buddy box" the NX6 with another DSM2®/DSMX® transmitter. Once bound to another transmitter, ModelMatchT technology enables the NX6 to re-link without going through the bind process again.
The NX6 transmitter is built around proven SpektrumT DSMX® 2.4GHz frequency-agile technology - the most advanced spread spectrum RC technology to date. By adding the agility of unique frequency shifts to the superior interference resistance of a wideband signal, and by limiting those shifts to a smaller portion of the 2.4GHz band, DSMX transmitters provide on-channel interference protection that's second to none.
The Spektrum AR6610T is a compact, DSMX®/DSM2® compatible, 6-channel receiver that produces lightning-fast response. Used with Spektrum AvianT Smart ESCs, it provides one-wire telemetry data without needing modules, links, and wires.
A bind button allows for easy binding without a bind plug. Two external antennas ensure secure RF coverage from all angles of your aircraft. We do not sell used, opened, or damaged items. Some restrictions apply based on destination and item size.
ORM-D and Lithium / Li-Po Battery Restrictions. Products of this nature include quarts of fuel, glues, paints, thinners, aerosol sprays, and certain lithium batteries. The mounting of engines and accessories, running fuel through engines, cutting or pushing out the balsa sheets in kits, and other similar actions constitutes used merchandise. Standalone or Nickel or Alkaline batteries which have been opened, used and / or charged, due to an abundance of caution and care for our customers. Flammable or combustible materials or products (regardless of whether the item is open or unopened) such as: Nitro engines (if fuel has entered the engine), Nitro fuel, Unopened as well as opened, charged and / or used Lithium Ion / Polymer (LiPo) batteries and other Lithium-based batteries.
Any type of opened, charged and / or used battery including LiPo, Nickel-Metal Hydride (NiMH), Nickel-Cadmium (NiCd), other Nickel-based batteries and / or Alkaline-based batteries. Paints, thinners, certain glues or cements/pastes. Aerosols or compressed gas canisters. Rockets, kits containing rockets with or without igniters, igniters, hobby fuel (both quart or gallon). When packing your order for return, please be sure all the original packing material and instruction papers and/or manuals are included.
We will be unable to process your return if parts are missing, or if items are not packed properly to avoid damage to products and their boxes and/or packages. Providing an exceptional customer experience is a mission we take seriously.
That's why, when it comes to radio control (RC) fun, we don't toy around. Our advances in model aircraft and vehicle stabilization, 2.4GHz control and ready-to-run convenience have made RC hobbies more exciting and more accessible than ever before. More importantly, we love RC just as much as our customers do. Any product that bears the Horizon Hobby name was developed by a team of in-house experts, many of whom have decades of experience in the hobby. But our commitment to a great experience doesn't stop at the drawing board. Every Horizon Hobby product is backed by the best customer service you will find in any industry. Horizon employs nearly 700 people and sells products in more than 100 countries around the world. Corporate headquarters, along with the main distribution facility and product service center, are located in Champaign, Illinois. Additional distribution centers are located in Ontario, California and Barsbüttel, Germany (site of Horizon Hobby GmbH).
California is also home to the Losi RC car division (Ontario) and the Athearn train line in Long Beach. At Horizon Hobby, we help people have fun with hobbies. That's why, when it comes to radio control fun, we don't mess around. We're always striving to answer e-mails as quickly as possible.
This item is in the category "Toys & Hobbies\Radio Control & Control Line\RC Model Vehicle Parts & Accs\Control, Radio & Electronics\Receivers & Transmitters". The seller is "horizonhobby" and is located in this country: US. This item can be shipped to United States.
UPC: 0605482690574
EAN: 0605482690574
Design: Console Transmitter
Brand: Spektrum
Type: Radio Receiver
Frequency Band: 2.4GHz
Model: SPM6775
MPN: SPM6775
Features: DMSS Compatible
Age Level: 17 Years & Up
Compatible Scale: 1:18, 1:16, 1:15, 1:14, 1:4, 1:5, 1:12, 1:6, 1:10, 1:8