XVive U4R4 In-Ear Monitor Wireless System Transmitter One and Four Receiver LN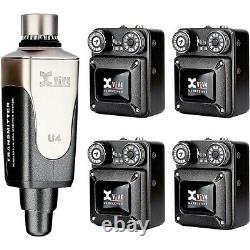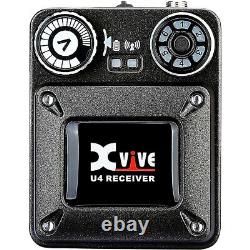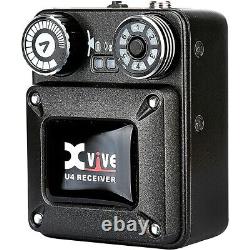 This XVive U4 wireless monitoring system provides better sound feedback for stage performers and performance quality. As a portable wireless system, you don't need to set up. Just plug-and-play to quickly build your monitoring system. The system itself is comprised of a transmitter unit, which connects to your audio source (typically a mixer or sound interface); and a belt-pack receiver (four are included in this pack) to which you connect your earphones or headphones. The U4 system features high-resolution, 24-bit/48kHz audio, with a very wide and smooth frequency response between 20Hz and 20kHz, a signal-to-noise ratio of 107 decibels and more volume than you'll ever need.
The sound is better than CD quality, and much, much better than MP3 quality. XVive U4R4 In-Ear Monitor Wireless System Transmitter One and Four Receiver LN. The internal battery in both the transmitter and the receiver lasts for five hours. The battery is easily charged using the included USB cable and any standard 5V USB charger, and charging takes between 1.5 and 2.5 hours depending on the current of the charger being used.
Direct Communication With the four included U4 receivers, you can broadcast your signal to a whole group of people. This can be useful in situations where one person needs to communicate clearly and directly to a group-either in noisy environments or in situations where you don't want to disturb others. This makes it an excellent option for things like group demos, presentations or gigging.
Free and easy recording For recording musicians, whether in a home or professional studio, going wireless makes the whole process so much freer and easier-especially if you're playing or singing and engineering at the same time. Discreet Practice If you want to practice guitar or bass privately-for example late at night-you can run your signal through a multi-effect unit or modeling amp, send either the 1/4 or XLR output to your headphones or earphones, and move freely around your home.
Even your whole band-up to four musicians in this case-can use the system together. There can be one monitor mix per transmitter, and with the different U4 sets, you can customize monitor mixes for each band member. This is an easy, great-sounding and cost-effective monitoring solution for studio recording, rehearsals or live gigs. In rehearsal, this also means that there's no need for PA speakers-so your band can practice in an apartment, or late at night.
If you're looking for a virtually new instrument in possibly less-than-perfect packaging, this is a great value. For example, if your order is placed AND paid for at 1 p. Store Policies If you're not satisfied, neither are we. Be in brand-new condition, showing no signs of wear or use such as belt-buckle or pick scratches, scuffs, dings, or scrapes on the instrument or collateral materials.