Spektrum DX5 Rugged 5-Channel DSMR Transmitter with SR515 SPM5200 Radios 5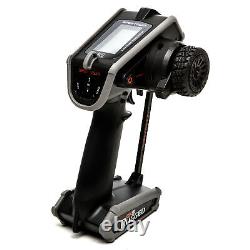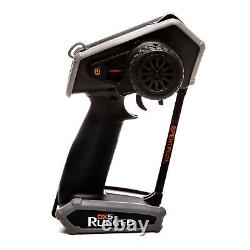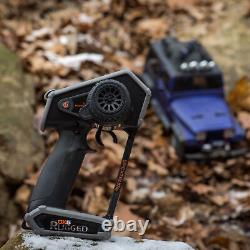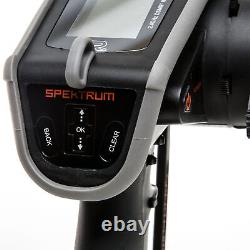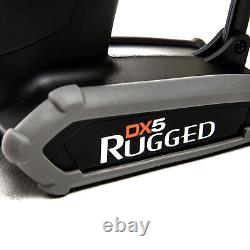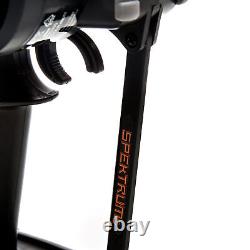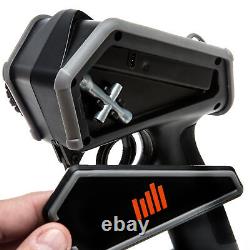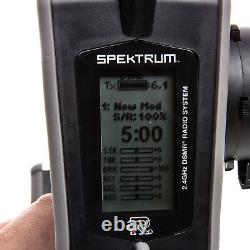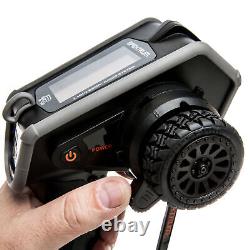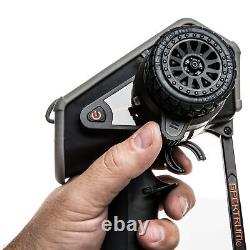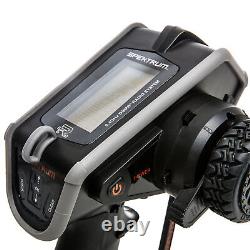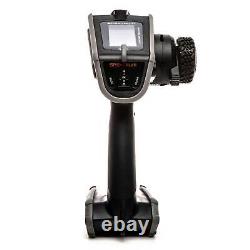 The Spektrum DX5 Rugged 5-channel surface system redefines radio control with unmatched innovation in durability that no off-roader basher or boater will want to be without. The result is precision control convenience and "rugged" versatility. Spektrum DX5 Rugged 5-Channel DSMR Transmitter with SR515, SPM5200. The Spektrum DX5 Rugged 5-channel surface system redefines radio control with unmatched innovation in durability that no off-roader, basher or boater will want to be without.
The result is precision control, convenience, and "rugged" versatility. Bold styling that's aggressive with a focus on class-leading durability. Inspired by the ergonomically-recognized SpektrumT DX5 Pro and DX5C transmitters. Water-resistant chassis design protects against minor splashes. Dual lanyard mounts provide radio safety and accessibility.
Built-in front chassis guard offers user-inspired accessory mounting options. Simple capacitive-touch control panel responds to the touch of your finger. Intuitive software based on user-tested functionality that's clean and simple. Innovative thumb-steering lever makes one-hand operation safer and more precise.
Non-slip removable rubber hand grip and off-road treaded steering wheel. Convenient built-in tool storage compartment. Frequency-agile, SpektrumT DSMR® 2.4GHz technology. Program and fine-tune compatible receivers with AVC® technology. Bind-progress screen displays status and frame rate. Includes the compact Spektrum SR515, 5-channel DSMR sport receiver. The DX5 Rugged instruction manual details water resistance limitations. Your vehicles are extremely durable, why not your transmitter?
The SpektrumT DX5 RuggedT 5-channel surface transmitter redefines radio control with a level of durability to match the tough conditions off-roaders, bashers and boaters encounter constantly. We started with a chassis based on the superb Spektrum ergonomic design found on the popular DX5C and competition favorite DX5 Pro.
From there, we integrated cordless power tool feature ideas for the die-hard punishment those products endure. The result is a class-leading RC system with unmatched durability in addition to other innovative features that unite with a level of precision, versatility and convenience you won't want to play without. Molded Thermoplastic Polyurethane (TPU) bumpers surround the radio chassis to protect it against drops, bumps and even a few bangs here and there. There's no external antenna to snag or worry about-a low-profile ridge on the chassis protects the robust high-speed signal output internally. A versatile front chassis guard enhances durability further and provides mounting options for user-integrated accessories such as a camera, light source or anything else.
The pair of lanyard mounting points gives drivers the ability to keep the transmitter close and gain a free hand when not driving. An easy-access accessory compartment makes it possible to can carry small tools, such as a T-wrench that smartly snaps into the internal mount provided. We increased transmitter water-resistance to give drivers peace of mind should there be an unexpected splash of water or some drops of rain. Last, but not least, is an aggressive off-road style steering wheel that expands its ruggedness even further, AND equipped it with an innovative thumb-lever to make controlling your vehicle with one-hand safer and more precise. To conquer the wild, the DX5 Rugged gives you 5-channel versatility and hosts an array of auxiliary switches for lights, winches and more.
Its interface features an innovative capacitive-touch control panel that offers a greater resistance to moisture and is easy to use. Simply slide your finger over the control panel and tap to select the menus, options and values on the easy-to-read LCD display. Integrated telemetry capability allows you to view vital data such as motor RPM, vehicle speed, battery voltage and temperature right on the transmitter in real-time.
No matter what you're driving, the AVC® technology programming capability in the DX5 Rugged can be easily tuned meet your skill level or driving style with control that makes it feel like you're at the wheel of a vehicle that handles predictably at every speed. Starting with a chassis based on a superb Spektrum ergonomic design, we were inspired by the punishment capability of cordless power tools, and translated their die-hard engineering to the specific needs of the RC driver.
The result is a shock-absorbing rubberized bumper design that surrounds the transmitter chassis to form a level of protection never offered before on a surface transmitter. That's why we designed durability hand-n-hand with convenience. A built-in side compartment offers tool storage, and two lanyard mounts (one rubber, one molded into the chassis) are supplied so you can be hands-free in an instant. The ergonomically-recognized DX5 Pro and DX5C transmitters paved the way in giving the DX5 RuggedT a feel any driver could appreciate. Overall low weight offers all-day driving with minimal fatigue, while the non-slip rubber grip and its trigger-throttle action offer a precision experience that feels natural.
We built-in a front chassis guard to increase durability further and make it possible for users to creatively self-integrate personal accessories and/or features such as a camera or light source-the sturdy guard itself and its mounting points are at your disposal. The aggressive off-road steering wheel tread helps the precision of Spektrum technology to also deliver a tactile feel even if you're crawling, bashing or boating in harsh conditions. The integrated thumb-lever innovatively makes it possible to steer one-handed safely and with a higher-level of precision. Toward the matter of improving water-resistance the scroll wheel and buttons were exchanged for a capacitive-touch sensing control panel that responds to the simple touch of your finger.
Sensitivity of the panel can be adjusted and a large LCD display helps make navigating the intuitive software easy. Programming the DX5 Rugged is simple. An intuitive interface makes navigating menus and changing settings easy. Most users can complete complex programming tasks on the fly. The built-in telemetry capability can give you real-time information on things like your vehicle's battery voltage, signal quality, motor temperature and more.
Using the audio-tone alert system, you can program the DX5 Rugged to notify you when specific telemetry values reach or exceed limits you define. Built around frequency-agile DSMR® technology the SpektrumT SR515 5-channel receiver included delivers superb range and response, especially in places where a lot of 2.4GHz systems are in use at one time.
Unbeatable signal security in a small modern package makes this sport receiver a top-pick for bashers, boaters, racers and rock crawlers. Plus, we integrated a versatile bind-button so that no bind plug ever needs to be on-hand.
The DX5 Rugged is built around frequency-agile, DSMR 2.4GHz technology. This exclusive SpektrumT technology can be used in any type of surface application, including boats. Its range and response, particularly in noisy 2.4GHz environments, are superb. It's also backwards compatible with DSM2® and marine-specific Spektrum receivers. This means most longtime Spektrum users can continue to use the receivers they have. They'll only need to upgrade if they want the frequency-agility of a DSMR receiver for busy 2.4GHz environments. AVC® (Active Vehicle ControlT) Programming. The DX5 Rugged makes it possible to custom tune an AVC system by providing easy-access to dedicated adjustments. In addition, open channels of the Rugged can be used to adjust the AVC steering and throttle systems independently. No matter what you're driving, AVC technology can easily meet your skill level or driving style with control that makes it feel like you're driving a finely tuned vehicle that handles predictably at every speed. We do not sell used, opened, or damaged items. Some restrictions apply based on destination and item size.
ORM-D and Lithium / Li-Po Battery Restrictions. Products of this nature include quarts of fuel, glues, paints, thinners, aerosol sprays, and certain lithium batteries.
The mounting of engines and accessories, running fuel through engines, cutting or pushing out the balsa sheets in kits, and other similar actions constitutes used merchandise. Standalone or Nickel or Alkaline batteries which have been opened, used and / or charged, due to an abundance of caution and care for our customers. Flammable or combustible materials or products (regardless of whether the item is open or unopened) such as: Nitro engines (if fuel has entered the engine), Nitro fuel, Unopened as well as opened, charged and / or used Lithium Ion / Polymer (LiPo) batteries and other Lithium-based batteries.
Any type of opened, charged and / or used battery including LiPo, Nickel-Metal Hydride (NiMH), Nickel-Cadmium (NiCd), other Nickel-based batteries and / or Alkaline-based batteries. Paints, thinners, certain glues or cements/pastes. Aerosols or compressed gas canisters. Rockets, kits containing rockets with or without igniters, igniters, hobby fuel (both quart or gallon). When packing your order for return, please be sure all the original packing material and instruction papers and/or manuals are included.
We will be unable to process your return if parts are missing, or if items are not packed properly to avoid damage to products and their boxes and/or packages. Providing an exceptional customer experience is a mission we take seriously. That's why, when it comes to radio control (RC) fun, we don't toy around. Our advances in model aircraft and vehicle stabilization, 2.4GHz control and ready-to-run convenience have made RC hobbies more exciting and more accessible than ever before. More importantly, we love RC just as much as our customers do.
Any product that bears the Horizon Hobby name was developed by a team of in-house experts, many of whom have decades of experience in the hobby. But our commitment to a great experience doesn't stop at the drawing board. Every Horizon Hobby product is backed by the best customer service you will find in any industry. Horizon employs nearly 700 people and sells products in more than 100 countries around the world. Corporate headquarters, along with the main distribution facility and product service center, are located in Champaign, Illinois.
Additional distribution centers are located in Ontario, California and Barsbüttel, Germany (site of Horizon Hobby GmbH). California is also home to the Losi RC car division (Ontario) and the Athearn train line in Long Beach. At Horizon Hobby, we help people have fun with hobbies.
That's why, when it comes to radio control fun, we don't mess around. We're always striving to answer e-mails as quickly as possible. This item is in the category "Toys & Hobbies\Radio Control & Control Line\RC Model Vehicle Parts & Accs\Control, Radio & Electronics\Receivers & Transmitters".
The seller is "horizonhobby" and is located in this country: US. This item can be shipped to United States.
Age Level: 17 Years & Up
UPC: 0605482296219
EAN: 0605482296219
Design: Pistol Transmitter
Brand: Spektrum
Type: Receiver
Frequency Band: 2.4GHz
Model: DX5
MPN: SPM5200
Compatible Scale: 1:18, 1:16, 1:15, 1:14, 1:12, 1:10