Spektrum AR10400T 10 Channel PowerSafe Telemetry Receiver SPMAR10400T Radios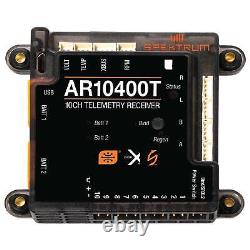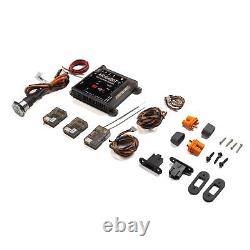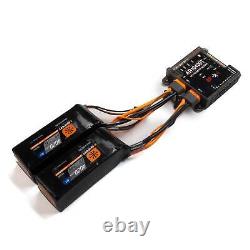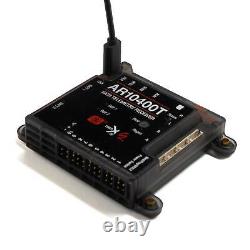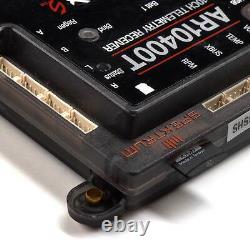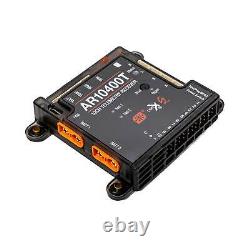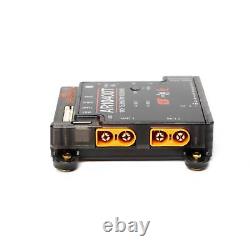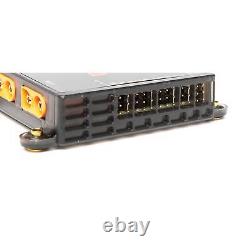 Features Patented PowerSafe&trade redundancy system with dual battery input ports with IC3 connectors. Spektrum AR10400T 10 Channel PowerSafe Telemetry Receiver, SPMAR10400T. Patented PowerSafeT redundancy system with dual battery input ports with IC3 connectors. Perfect for power-hungry aircraft and high-current servo applications drawing up to 35A (50A max burst).
Forward programming allows for easy adjustments to failsafe settings, servo frame rate settings and more. Micro USB port for easy product registration and firmware updates. 12V capable for use with 12-volt servo applications (must be activated via Forward Programming). Integrated battery capacity monitor automatically reports the battery capacity used during flight and can reset automatically when fully charged batteries are installed. Perfect for power hungry aircraft and high current servo applications drawing up to 35A (50A max burst).
12V capable for use with 12 volt servo applications (must be activated via Forward Programming). Integrated Black Box telemetry log saves all telemetry data automatically when a Micro SD card is installed (Micro SD card not included). Integrated status LED provides helpful information during start up, warnings and mode indicators.
SRXL2 connectivity for easy, one wire connection to supported devices. Ready to use with Spektrum Smart ESC for one-wire telemetry data without the need of modules, links and wires. Receiver pack energy & voltage sensor and flight log telemetry data available without the need for additional sensors.
Full range telemetry with integrated barometer to provide altitude and vario telemetry without additional modules. Included Soft Switch allows servo current to be routed around the switch, so if the switch fails for any reason, power to the system will not be interrupted.
Rubber grommet hard mounts and minimalistic labeling helps produce the cleanest model setups. Capable of high-speed 11ms frame rates. Binding is easier than ever with four options to initiate the bind process. Integrated telemetry with built-in ports for RPM, flight pack voltage, temperature sensors and X-bus for telemetry sensor expansion.
Compatible with all Spektrum DSM2 and DSMX transmitters. Not compatible with Spektrum AS3000 Stabilization Module. Not compatible with DSM2 AIRMOD JR Module (SPMMSJR720).
The SpektrumT AR10400T PowerSafeT receiver is a feature-packed 10 channel receiver with integrated full-range telemetry. Spektrum PowerSafe receivers are designed for models using numerous servos and accessories that draw excess current such as those found on giant-scale airplanes and jet models.
They feature a robust power bus designed to manage high-current loads, as well as dual battery input ports with IC3T connectors for use with larger battery packs. This makes it possible to support high-current systems straight through the receiver without the need for a separate power distribution system. If you have a DSMX®/DSM2® transmitter capable of 11ms frame rates, the AR10400T will deliver lightning-fast input-to-output response that is perfect for high-performance applications such as aggressive 3D, IMAC, and Turbine airplanes.
Each receiver includes 3 SRXL2 remote receivers that take full advantage of Spektrum MultiLinkT technology. This patented technology eliminates the reflected signal fading and antenna blind spots that can affect all 2.4GHz systems, helping insure a solid connection between you and your aircraft. As an added measure of safety, the Spektrum designed the AR10400T receiver with a proprietary soft switch. Allowing servo current to be routed around the switch, so, should the switch fail for any reason, power to the system will not be interrupted.
A ground-breaking feature on the AR10400T PowerSafe Receiver is the built-in receiver battery energy sensors; giving pilots added awareness of the load and mAh used by the servos, retracts, lights, etc. Each come with built-in connection ports for RPM, Flight Pack Voltage and Temperature sensors as well as an X-Bus port for additional telemetry options. The SpektrumT AR10400T is the ultimate solution for powering high-current draw radio systems. In aircraft with multiple high-current draw servos e.
, PowerSafe redundancy expertly manages power between both connected receiver batteries with true dual battery redundancy. Each battery is isolated and if one fails/shorts the other seamlessly takes over.
The PowerSafe receivers feature dual battery capacity monitoring through telemetry when used with Spektrum AirWareT transmitters. Activate the Auto Config function on the telemetry page in your transmitter to display the capacity consumed by the receiver. The capacity used is stored flight to flight and adds until reset. The capacity can be automatically reset when the battery is charged, allowing easy battery capacity monitoring.
Integrated "Black Box" Telemetry Logging. When a micro SD card is inserted into the receiver, during operation, flight information will be logged onto a file on the card including flight log data, battery status and other telemetry data stored over time. If not deleted, older data logs recorded will be deleted, keeping the most recent logs. This can be a handy tool to review flight data over time which can be helpful for diagnosis of performance. You can configure the AR10400T receiver wirelessly, directly from any compatible SpektrumT transmitter, through the Forward Programming menu.
No separate computer or mobile device is needed for setup and adjustments. A user-friendly Micro USB port is built into the receiver for easy access to firmware updates via the Spektrum PC Programmer Application.
The Status LED will give information about the status of the receiver and give warning codes if there is an issue or condition detected: Differentiate codes/modes by flashing count. White Blinking/Breathing - Initializing, not ready to fly. Red - Failure, failure where you can't fly.
Two blinks - 3S Power Detected/Protection engaged. One blink - No remote detected in port A or not enough remotes detected, need at least 2 remotes connected and one must be in port A. Solid Blue - Ready (with recording).
Ready to fly recording with SD card. Solid Green - Ready (without recording). Ready to fly, not recording to an SD card. In addition to the integrated telemetry sensors, the AR10400T supports an expansive list of Spektrum telemetry sensors and 3rd party telemetry accessories. Easily add powerful telemetry data tools to your model such as GPS, Airspeed Sensors, Engine RPM and Turbine ECU telemetry from supported jet turbine controllers. We do not sell used, opened, or damaged items. Some restrictions apply based on destination and item size.
ORM-D and Lithium / Li-Po Battery Restrictions. Products of this nature include quarts of fuel, glues, paints, thinners, aerosol sprays, and certain lithium batteries.
The mounting of engines and accessories, running fuel through engines, cutting or pushing out the balsa sheets in kits, and other similar actions constitutes used merchandise. Standalone or Nickel or Alkaline batteries which have been opened, used and / or charged, due to an abundance of caution and care for our customers. Flammable or combustible materials or products (regardless of whether the item is open or unopened) such as: Nitro engines (if fuel has entered the engine), Nitro fuel, Unopened as well as opened, charged and / or used Lithium Ion / Polymer (LiPo) batteries and other Lithium-based batteries. Any type of opened, charged and / or used battery including LiPo, Nickel-Metal Hydride (NiMH), Nickel-Cadmium (NiCd), other Nickel-based batteries and / or Alkaline-based batteries.
Paints, thinners, certain glues or cements/pastes. Aerosols or compressed gas canisters.
Rockets, kits containing rockets with or without igniters, igniters, hobby fuel (both quart or gallon). When packing your order for return, please be sure all the original packing material and instruction papers and/or manuals are included.
We will be unable to process your return if parts are missing, or if items are not packed properly to avoid damage to products and their boxes and/or packages. Providing an exceptional customer experience is a mission we take seriously. That's why, when it comes to radio control (RC) fun, we don't toy around. Our advances in model aircraft and vehicle stabilization, 2.4GHz control and ready-to-run convenience have made RC hobbies more exciting and more accessible than ever before. More importantly, we love RC just as much as our customers do.
Any product that bears the Horizon Hobby name was developed by a team of in-house experts, many of whom have decades of experience in the hobby. But our commitment to a great experience doesn't stop at the drawing board.
Every Horizon Hobby product is backed by the best customer service you will find in any industry. Horizon employs nearly 700 people and sells products in more than 100 countries around the world. Corporate headquarters, along with the main distribution facility and product service center, are located in Champaign, Illinois. Additional distribution centers are located in Ontario, California and Barsbüttel, Germany (site of Horizon Hobby GmbH). California is also home to the Losi RC car division (Ontario) and the Athearn train line in Long Beach.
At Horizon Hobby, we help people have fun with hobbies. That's why, when it comes to radio control fun, we don't mess around.
We're always striving to answer e-mails as quickly as possible. This item is in the category "Toys & Hobbies\Radio Control & Control Line\RC Model Vehicle Parts & Accs\Control, Radio & Electronics\Receivers & Transmitters". The seller is "horizonhobby" and is located in this country: US. This item can be shipped to United States.
Age Level: 17 Years & Up
UPC: 0605482768556
EAN: 0605482768556
Design: Console Transmitter
Brand: Spektrum
Type: Receiver
Model: Spektrum AR10400T
MPN: SPMAR10400T
Features: Hobby