Set 110 / 220V UHF Mains Room Quartz Transmitter / PLL Receiver STABLE & SAFE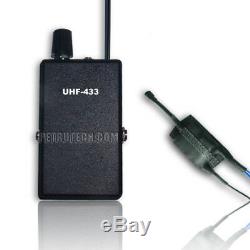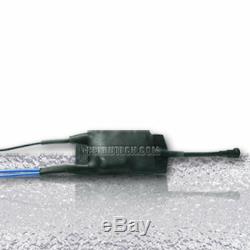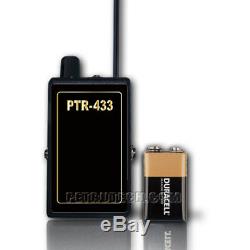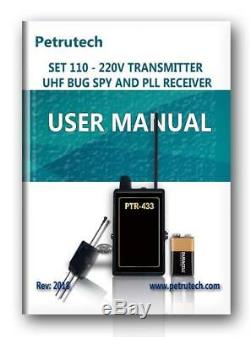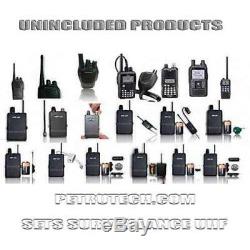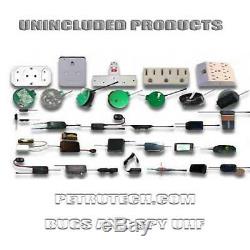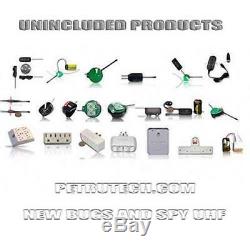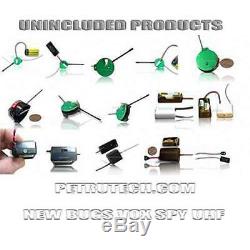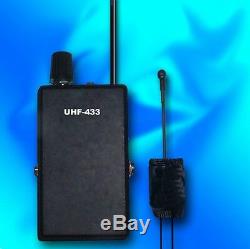 Please ask for our online / outline catalog. Brand New SET UHF 110V or 220V MAINS BUG SPY TRANSMITTER PLL RECEIVER. This is THE best set of the professional Mains operated (110V - 220V) transmitter-receiver set. It differs from other similar sets which may look alike.
Unlike them, it has an incredible long range (as permitted by FCC rules) and due to its special design is the most stable and powerful you may find. The Mains 110V - 220V NFM. Is made of high quality Japanese and U. S components and supplied with a super sensitive RF stage. Do you like to change and pay for batteries?
No, it's just a battery waste. This professional transmitter doesn't use battery at all. It is connected directly to the AC Mains 110V - 220V. A special audio filter make it more sensitive than ever to human voices. The Miniature UHF transmitter is for use in a room or business. This mains transmitter will transmit conversations to a distant receiver.
Connected directly to AC Mains. Is designed and made in Israel based on the high knowledge of our high skilled staff, and based only on modern technologies. Each transmitter and receiver is tested and tuned in our specialized laboratory and tested "on field" by high skilled engineers for maximum distance. Technology are effective at penetrating obstructions such as walls, ceilings, and floors.
/ Transmitter set is able to perform exceptionally compared to others listening devices and UHF. Used for listening to conversation, the. / Transmitter set employs a state-of-the-art surface-mount technology, making it the most effective wireless audio transmitter of its kind. Baby and elder people monitor.
Home security device, property monitoring etc.. Ideal for surveillance, communications, anti-theft and much more.. The device dimensions are so tiny, that it allows concealing it imperceptible in any secret place. In spite of that, the present. Is very sensitive, it allows catching even feeble whisper in tens of meters away from it (in closed rooms).
The RECEIVER is adjusted to 433. Xxx MHz, crystal controlled, fixed frequency. PAY LESS - GET MORE!! FOR THE BEST, CHEAPEST AND NEWER DEVICES, PETRUTECH TECHNOLOGIES, THE BEST EQUIPMENT! Working Voltage: 110 or 220V line no battery!
Dimension: ONLY 1.4 X 2.3cm! Transmitter's frequency range: NFM (UHF) 433.6-433.9MHz FIXED MAINTENANCE FREE CRYSTAL. SMD built, for more stability and range (MIL SPECS 1% accuracy). True FM - The only one Varicap controlled for power and stability.
Using a patent pending material for encapsulating, for safety and security!! The device is coated with special Anti-static material. Penetrates through walls and ceilings. You won't miss a word.
USA made by Motorola high amplification FET microphone. High-tech laminate makes it weather resistant, and.
Which is coated with ANTI - FIRE and ANTI INFLAMMABLE MATERIAL!! PROFESSIONAL GOLD PLATED BOARD FOR EXTRA STABILITY.
Working Voltage: 9V alkaline battery (not included). Dimension: ONLY 2 X 5.5 X 8.7 cm!!!
Receiver's frequency range: 433.8-433.9MHz. This is a REAL crystal controlled NFM PLL UHF receiver.
Sensitivity: Better than 125 dBm into 50 Ohm (12 dB/sinad). Less current drawing than any similar device - due to new components. It uses a special antenna, only 14cm. Sensitivity: Better than 125 dBm into 50 Ohm (12 dB/sinad)! Deviation: 2.5 KHz to 6 KHz!!
Outlets for audio recording and earphones. The battery time-life depends on the battery freshness and brand. PROFESSIONAL PLATED BOARD FOR EXTRA STABILITY.
There is NOT oxidation and dry soldered joints during the time due to the coating material. The Receiver comes FULLY ASSEMBLED AND READY TO USE, Just connect it and start listening.
1 SET Crystal controlled PLL Crystal controlled. SPY BUG Transmitter - Receiver. Thank you for watching from Petrutech Technologies Team. Please check out my other items! The item "Set 110 / 220V UHF Mains Room Quartz Transmitter / PLL Receiver STABLE & SAFE" is in sale since Thursday, December 20, 2012.
This item is in the category "Consumer Electronics\Other Consumer Electronics". The seller is "petrutech" and is located in Fast shipping from either branch. This item can be shipped worldwide.
Product+Type: Crystal Controlled PLL
Manufacturer: Petrutech Technologies
Model: SET_M_UHF
Product Type: SET Receiver / Bug 110/220V TRANSMITTER
Type: SET_M_UHF
Exact Type: MAINS CRYSTAL Receiver Transmitter
Features: Wireless
MPN: SET_M_UHF
Brand: Petrutech Technologies