Futaba Systems 6K-V3S 8-Channel T-FHSS Heli 2.4 GHz System FUT010044043 Radios 8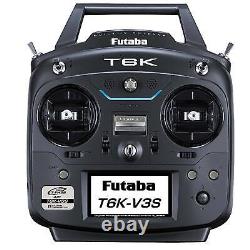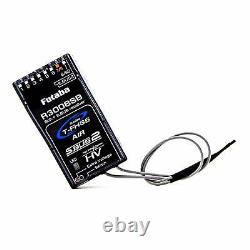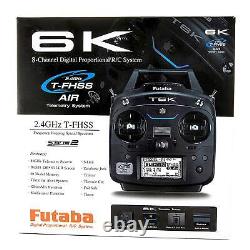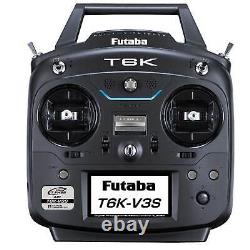 Overview The Futaba 6K 2.4GHz V3S FHSS/T-FHSS Radio System is one of the most feature packed transmitters in its price range. Featuring telemetry sensors to monitor critical flight data, S. Bus2 servo compatibility, with setting functions that can be programmed directly from the transmitter. Ergonomic controls are within easy reach, and the menu navigation is simple. The updated 6K V3S model allows for the user to adjust the governor speed settings through the transmitter using channel 7.
More functions for gliders such as, wing type 2AIL-B, trim mixing for rudder and more conditions have been added. When you consider other features like four 3-position switches, 30 model memory, a backlit 128x64 DOT LCD screen and updateable software, it's easy to see why the 6K V3S is a lot of. Futaba Systems 6K-V3S 8-Channel T-FHSS Heli 2.4 GHz System, FUT010044043.
The Futaba 6K 2.4GHz V3S FHSS/T-FHSS Radio System is one of the most feature packed transmitters in its price range. The R3008SB receiver can use S. Bus as the main link/communication to the servos or a combination of S. Bus and the conventional outputs together. It features 8 standard PWM outputs in addition to S.
Features bi-directional communication with a T-FHSS Air Futaba transmitter using the S. BUS2 port will allow for an impressive array of telemetry sensors to be used. T-FHSS AIR/S-FHSS 2.4 GHZ MULTI FUNCTION 8-CHANNEL TRANSMITTER. The Futaba 2.4 GHz T-FHSS Air system/S-FHSS system is employed. The transmitter body contains a 30 model memory.
A T-FHSS Air bidirectional communication system is used. The voltage of the battery mounted in the fuselage can be displayed at the transmitter during flight. Altitude, temperature, RPM, current, and voltage data can be displayed at the transmitter by installing various optional telemetry sensors in the fuselage. Fixed wing, helicopter, and glider mixing type can be selected to match the fuselage. In addition, 6 swash plate types can also be selected for helicopters. Multi-copter selection is also possible. Telemetry data can be listened to by plugging commercial earphones into the transmitter. Rapid trimming during flight is possible. The sound changes at the center of trim. The step size can be arbitrarily changed.
The trim position is displayed on the LCD. The lever head length can be adjusted. Lever head shape that reduces slip during operation has been adopted. SWITCH/VR POSITION CHANGE AND AUX CHANNEL FUNCTION CHANGE. Mixing and other switches and VR can be selected.
Since the function of the AUX channels (CH5-CH8) can also be changed, original mixing, in addition to existing mixing, can be created by using the programmable mixing function. Four AA's alkaline batteries can be used. HT5F1800B (NiMH 6.0 V, 1800 mA). FT2F1700BV2 (lithium-ferrite 6.6 V, 1700 mA).
FT2F2100BV2 (lithium-ferrite 6.6 V, 2100 mA). Model data can be wirelessly transferred between 6K. Updates from T6K -> T6K V3S. 8 channel receiver (R3008SB) is included.
Switch D is changed from 2 positons to 3 positons. Glider functions strengthened (Added wing type 2AIL-B, Trim-mix for rudder, conditions increased from 3 to 4). Timer (Added 1 more time and having 2 timers). Helicopter function (Governor gain added). A function that alerts the operator of various alarms by vibrating the transmitter can be selected.
We do not sell used, opened, or damaged items. Some restrictions apply based on destination and item size. ORM-D and Lithium / Li-Po Battery Restrictions. Products of this nature include quarts of fuel, glues, paints, thinners, aerosol sprays, and certain lithium batteries. The mounting of engines and accessories, running fuel through engines, cutting or pushing out the balsa sheets in kits, and other similar actions constitutes used merchandise. Flammable or combustible materials or products (regardless of whether the item is open or unopened) such as: Nitro engines (if fuel has entered the engine), Nitro fuel, Unopened as well as opened, charged and / or used Lithium Ion / Polymer (LiPo) batteries and other Lithium-based batteries. Any type of opened, charged and / or used battery including LiPo, Nickel-Metal Hydride (NiMH), Nickel-Cadmium (NiCd), other Nickel-based batteries and / or Alkaline-based batteries. Paints, thinners, certain glues or cements/pastes. Aerosols or compressed gas canisters. Rockets, kits containing rockets with or without igniters, igniters, hobby fuel (both quart or gallon). When packing your order for return, please be sure all the original packing material and instruction papers and/or manuals are included. We will be unable to process your return if parts are missing, or if items are not packed properly to avoid damage to products and their boxes and/or packages.
We are the home for all your hobby needs. At Omni Models, we help people have fun with hobbies. Providing an exceptional customer experience is a mission we take seriously. That's why, when it comes to radio control fun, we don't mess around. We're always striving to answer e-mails as quickly as possible.
This item is in the category "Toys & Hobbies\Radio Control & Control Line\RC Model Vehicle Parts & Accs\Control, Radio & Electronics\Receivers & Transmitters". The seller is "omnimodels" and is located in this country: US. This item can be shipped to United States.
Brand: Futaba Systems
MPN: FUT010044043
Age Level: 17 Years & Up
EAN: 4513886034657