Futaba 7PXR 7-Channel 2.4GHz T-FHSS Telemetry Radio With 2x R334SBS Receivers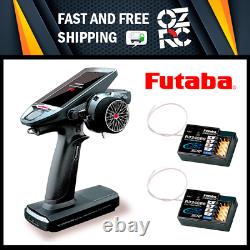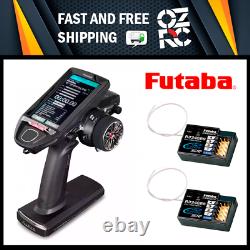 FULL COLOR TOUCH SCREEN LCD. T7PXR has an HVGA 4.3 inch, full-colour, backlit LCD touch screen. The screen is transflective which enables both indoor and outdoor visibility. T-FHSS SR (SUPER RESPONSE) AND TELEMETRY T-FHSS. In addition to the T-FHSS telemetry system, we added a T-FHSS SR (Super Response) system that increased processing speed to further improve response.
SR system does not support telemetry function. Software can be updated by microSD card. Model data can also be saved in a microSD card. In addition, telemetry log data can be saved. MODEL MEMORY FOR 40 MODELS.
Model names can use up to 15 letters, numbers, and symbols, so that logical names may be used. A model memory with different setups can be created by using the model copy function.
It is possible to update the T7PXR itself in the future by NFC communication. A switch with both dial (DL1) and pus switch (PS6) functions. BRAKE MIXING FOR LARGE CARS. Brake mixing of the front and rear wheel of 1/5 gas power cars and other large cars can be adjusted independently.
Smooth cornering is possible by independent left and right steering servo setting. 4WS MIXING FOR CRAWLERS AND OTHER 4WS TYPE. This function can be used with crawlers and other 4WS type vehicles.
DUAL ESCS MIXING FOR CRAWLERS CARS. ESCs at the front and rear are controlled independently.
The sensitivity of Futaba car rate gyros can be adjusted from the T7PXR. This function is intended for vehicles such as tanks. LED lighting and flashing control using our CPS-1 channel power switch can be matched to steering and throttle operation by switch only. This is a special function that allows setting of the parameters of our S. Bus servo whose settings are changed by using PC Link software. This dedicated function allows you set up the Link software so that your T7PXR can control variable frequency and other data changes in Futaba speed controllers (ESCs): MC960CR, MC950CR, MC850C, MC851C, MC602C, MC402CR, etc. Sudden trigger operation on a slippery road surface will only cause the tires to spin and the model to not accelerate smoothly. By setting the throttle speed function, operation can be performed smoothly and easily. It also suppresses battery consumption. When you sense that the steering servo is too fast, etc. The servo operating speed (direction that suppresses the maximum speed) can be adjusted. When the telemetry function is OFF to confirm that the telemetry function is not operating. This function assigns functions to dials (digital trim, drip dial, knob). The step amount and operating direction can also be adjusted. Trim positioning at each model call is unnecessary because all the dials are digital.
This function assigns functions to 5 switches. The operating directions can also be set.
WHEEL AND TRIGGER POSITION CAN BE CHANGED. The wheel position can be offset by using an accessory APA wheel position offset adapter. The wheel angle can also be adjusted. The position of the throttle trigger can be moved forward and backward.
The trigger brake lever is selected from a narrow nylon type and wide type. Lock functions which prohibit setting and operating by transmitter trim, and dials are provided. The left and right installation direction of the wheel section can be reversed.
VIBRATOR BUILT INTO THE GRIP. The vibrator can be operated at racing timer lap navigation, time-up, and low battery, telemetry alarm. It sets it on each function screen. YOUR T7PXR INCLUDES THE FOLLOWING COMPONENTS.
Large Diameter Steering Wheel (54 mm). Trigger Brake Lever (Narrow Type). WHEEL SYSTEM, 7 CHANNELS (S-FHSS SYSTEM), 4 CHANNELS WITH TFHSS-SR, T-FHSS, FASST SYSTEM. 2.4 GHz band/ -Transmitting RF power output: 100 mW EIRP.
LiFe FT2F1700BV2 (6.6 V). 350 mA or less (When the T-FHSS, Vibration off, back lighting on). 4.3 INCH BACKLIGHTED COLOR TFT LIQUID CRYSTAL TOUCH PANEL.
When you turn on your 7PXR, bright dots may appear on your screen display. Your display contains an extremely large number of TFT and is manufactured using high-precision technology.
Any bright dots that may appear on your display are intrinsic of the TFT manufacturing technology. 33.9 mm x 22.3 mm x 11.3 mm.
1.33 in x 0.88 in x 0.44 in. The item "Futaba 7PXR 7-Channel 2.4GHz T-FHSS Telemetry Radio With 2x R334SBS Receivers" is in sale since Wednesday, October 21, 2020.
This item is in the category "Toys, Hobbies\Radio Control & Control Line\RC Model Vehicle Parts & Accs\Control, Radio & Electronics\Receivers & Transmitters". The seller is "oz-rc" and is located in Brisbane, QLD, AUSTRALIA. This item can be shipped worldwide.
MPN: 01004395-3
Brand: Futaba
Type: Transmitter