FrSky TWIN X-Lite Transmitter Dual 2.4G Radio System Verdigris Green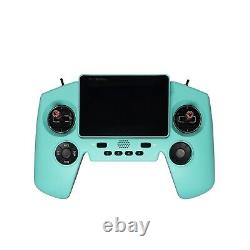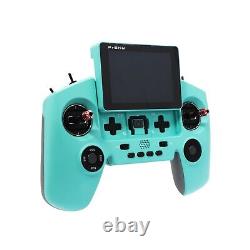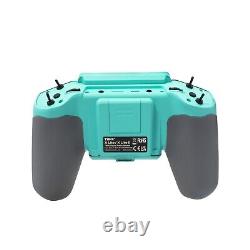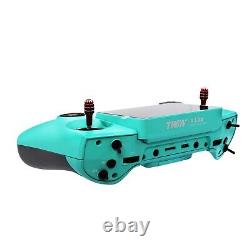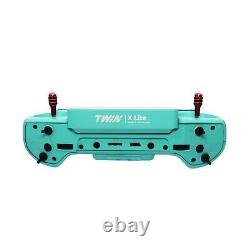 DUAL 2.4G RADIO SYSTEM. The TWIN X Lite is a powerful radio system that features dual 2.4G frequencies simultaneously on the same receiver in TW mode.
The TW active-active protocol is different from the general active-standby redundancy solutions, with this protocol, dual 2.4G frequency bands are active on the TWIN series RF module and receiver at the same time. It has two 2.4G internal RF antennas mounted to provide multi-directional and wider coverage for transmitting signals compared to a single antenna design. Taking advantage of these features, the Twin system can provide less latency and higher reliability at a faster data rate with confidence. In addition to the TW mode, TWIN X Lite also supports ACCST D16, ACCESS, and ELRS 2.4G (Compatible) modes, this means users can benefit from a wide range of compatible receiver options to choose from and bind to when building the RC model.
SLIDE SCREEN & UPGRADED ERGONOMIC AND COMPACT DESIGN The Twin X Lite size and shape have been designed to make the radio compact, lightweight, and easy to carry. It adopts a 3.5-inch color touch slide screen, the sliding function saves space and ensures the comfort of using other functional trims, buttons, etc.
By sliding out the screen, the hidden foldable tab will be exposed and can be used to attach the strap or other potentially more flexible uses. The power button and 4 standard trims (for adjusting gimbal sticks) are positioned under the screen. The TWIN X Lite includes an additional 2 trims and 4 customizable buttons placed in a convenient location on the radio panel for real-time and frequent operation. For example, when flying an RC glider, you can use the extra trims to adjust the angle of the flaps/surface to adapt to the real-time air environment.
The momentary buttons, sliders, and switches on the top are easier to reach. In addition, the momentary buttons have been redesigned and improved to withstand larger pressure, and the button cap areas are now more comfortable to press. BUILT-IN MASS STORAGE & BATTERY CAPACITY In order to save the user the trouble of deciding the storage capacity, TWIN X Lite comes with a built-in 1G flash storage that offers plenty of file storage to meet all of your radio's storage needs. And TWIN X Lite included a 2100mAh Li battery, its battery bay is easy to access for replacing the battery and also offers a Type-C port for recharging the battery. Ergonomic and Compact Lightweight design?
3.5 Color Touch-Screen Displays? 6 Trims & 4 Quick-Mode Custom Buttons? 2 Momentary Buttons & 2 Sliders & 4 Switches on the Top?
Lite Type External Module Bay? Fordable Tab for Attaching Radio Strap? CNC Metal Gimbals with Integrated High-Precision Hall Sensor? Less Latency with More Range and Higher Reliability at a Faster Data Rate? Built-in Dual 2.4G Band Internal RF Module - Supports 4 RF protocols: ACCST D16 / ACCESS / ELRS (Compatible) / TW Mode.
Highly resilient RF module providing dual 2.4G signals working simultaneously. Long-range control Tens of kilometers, range varies based on the RF Power settings. Low-latency (<4ms) supporting full telemetry. External TF card slot for storage extension?
Haptic Vibration Alerts and Voice Speech Outputs? Supports Recharge System for 2S Li-ion Battery?
High-Speed PARA Wireless Training System? Battery Bay Size: 6844.513mm(LWH)? Data Transmission & Charging Interface: USB Type-C? USB Adaptor Voltage and Current: 5V+0.2V, >2.0A?
Built-in Flash Storage: 128MB(1Gbit)? LCD Touch-Screen Display Resolution: 480×320?
Compatibility: ACCST D16 / ACCESS / ELRS(Compatible) / TW modes.