EARLY 1930s U. S. ARMY SIGNAL CORPS BC-156/ SCR-171 RADIO RECEIVER TRANSMITTER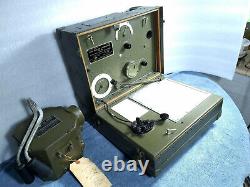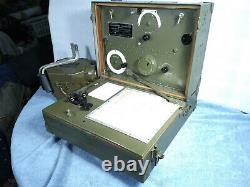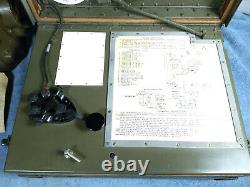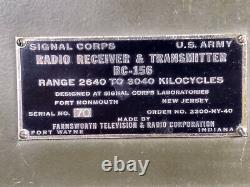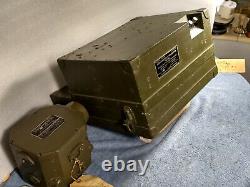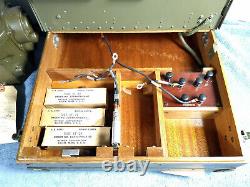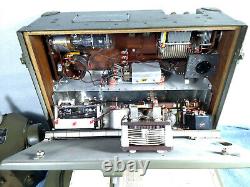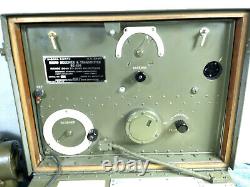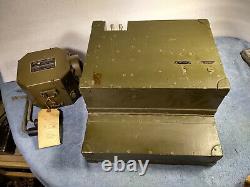 We have never seen another in this Incredible Like New Pristine Condition. 1930s DESIGN BUILD DATE 1940 U.
ARMY BC-156/ SCR-171 RADIO RECEIVER TRANSMITTER S/N 70 GN-35 Hand Crank Generator S/N 504. ENCHANTINGLY ELEGANT SIMPLICITY & CRAFTSMANSHIP. THIS RADIO NEEDS TO FIND A PUBLIC DISPLAY HOME like a MUSEUM.
Or ELECTRONICS COMPANY DISPLAY CASE. My PICTURES do NO JUSTICE TO THIS TRUE JEWEL.
THIS UNIT IS NEAR PERFECT but PLEASE VIEW PICS CAREFULLY. Completely Original with all Parts, Tubes and Mechanically Functioning. Both Radio and Generator look to have never been deployed. Radio transmitter - receiver BC-156,'Basic Component' of U. Army SCR-171,'Set, Complete, Radio', dates to 1931.
A little information may be found on the'Radionerds' website, search on SCR-171. This example was built in 1940. This radio was woefully obsolete at its 1940 date.
Military in the 1930s was small and not well funded. Rearmed because of the growing storm looming in Europe, and possible war in the Pacific, some of these old models. Were still produced as stopgap.
These older sets were not used in the war that came, but were relegated to training in. Frequency 2.64 - 3.04 MHz, output power about 5 watts CW (carrier telegraphy only), break-in operation. Working distance given as 15 miles. The circuit is one tube, VT-25 / #10 as free running power oscillator.
Three tube 864/ "special #30" autodyne receiver. Transmitter uses 10 volts and 400 volts from handcrank generator.
Receiver is powered by 3x 1.5 volt and 2x 45 volt. Receiver provided audio output to headphone jack, for Army type P-11 or P-12 high impedance headphones.
Antenna was wire about 60 foot length, with similar counterpoise ground wire. This radio is quite similar to Army. Loop sets' BC-148, BC-151 from the same era, but the loop sets used a large diamond shaped loop antenna, not wire. Antenna, and had much less range. The original loop antennas are now pure unobtainium.
This model uses an external. This will make a very fine radio for display. It is a very interesting. Combination of both electronics and old-time quality cabinet work.
The innards are particularly interesting and a piece. If you have an amateur radio license for the HF bands, there's the interesting possibility of using this radio on the air. The freq range could possibly be padded down to the 160 meter band or pulled up to the 80 meter band. A truly one of a kind rig on the air, with no doubt a unique nice chirpy signal also. If you have some cash available to invest this may be.
Let our hard to part with best of collection gear be your next great addition to your collection. No claim is made as to the functionality of this Radio Gear. UNIFORM COMMERCIAL CODE 2-316 (3). Please contact if you prefer a different shipper than FEDX or UPS.