AT9S Pro 10/12 Channels Radio Transmitter and Receiver R9DS, Long Range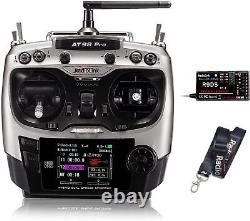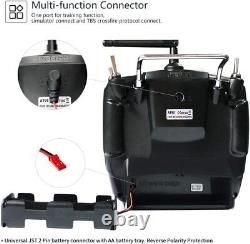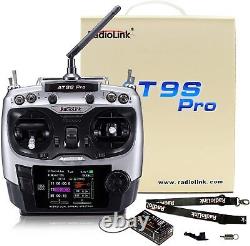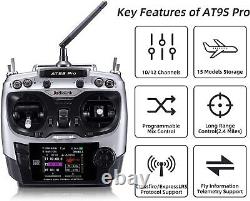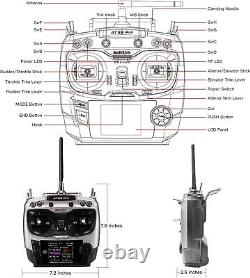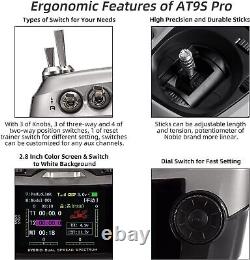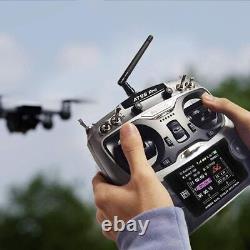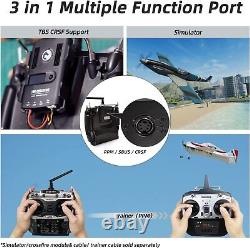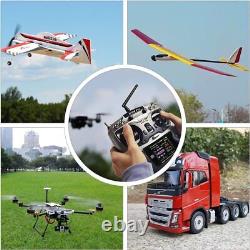 AT9S Pro RC Transmitter and Receiver. Documents could be found on this page below.
You could replace the receiver to mini size model. Real-time airplane voltage monitor on AT9S Pro screen when paired with voltage telemetry module PRM-01. To telemetry flight information on radio's screen like battery voltage, speed, altitude, RSSI, yaw roll and more, AT9S Pro should equip with PRM-03 module and flight controller APM, Pixhawk, Mini Pix, Turbo Pix.
Easy to understand graph view, 5-12 channels can be programmed to any advanced setting. An Airbrake can be programmed by using pre-programmed mixes. Multi-servo elevator mixing for Flying Wings or V-Shaped tail models.
Low RSSI, low voltage and throttle position alarm, with DD sounds, vibration and words remind you on outdoor readable LCD. Each channel travel can be real-time display on radio screen, press EXIT from home page into this page. Support RC simulator wired/wireless trainer interface feature, compatible with the majority of aircraft simulator software, like Realflight, PhoenixRC, FreeRider.
Firmware Update & Data Copy. Support update to the firmware to get future features.
AT9S Pro also support data copy, no worries about of re-set same model data to other AT9S Pro. Firmware Update & Data Copy file download below this Amazon sales page. Wearing this remote lanyard will not have a sense of pressure and help you reduce hand-held fatigue. Silky polyester RC controller lanyard strap, smooth and comfortable, very friendly to the skin. 1.690.940.59 inch(LWH), 0.35oz (10g).
Press the Bind Button more than 1 second and release. Press the Bind Button 2 times within 1 second. With reverse polarity protection circuit, do not worry about it damage even you insert wrong polarity.
JST(2Pin)connector is easily adapted for various battery, such as: 8AA batteries or 2s-4s LiPo, Li-fe, Lithium battery. Compatible with Variety of Receivers. Compatible with receiver R12DS, R12DSM, R9DS, R6DS, R6DSM.
R12DSM & R6DSM are tiny size receivers for drone. To get 12 channels work, AT9S Pro should equip with R12DS, R12DSM, then you should go to SYSTEM Menu, make sure CH-SELECT is.