1Mii 2.4Ghz Wireless Audio Transmitter Receiver for TV 320ft Long Range 20ms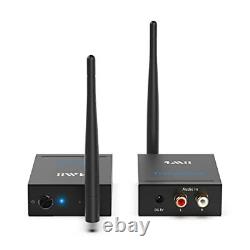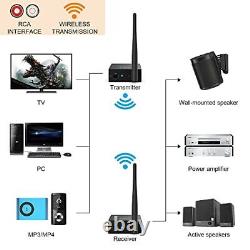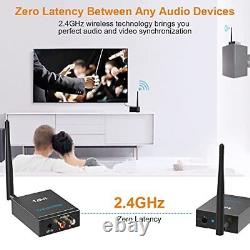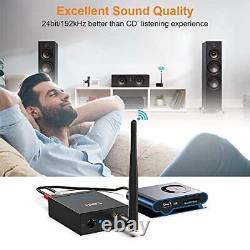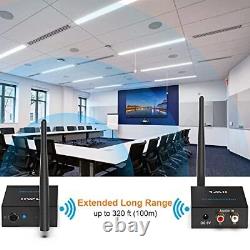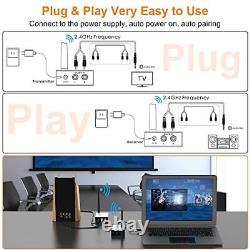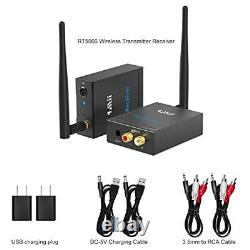 1Mii 2.4Ghz Wireless Audio Transmitter Receiver for TV, 320ft Long Range 20ms Low Delay 192kHz/24bit HiFi Audio, Wireless Adapter for Speaker to Powered Speaker/Stereo/Subwoofer/Soundbar/RCA Out/in. 1Mii wireless transmitter receiver set with RCA input and output can easily connect with your TV, DVD, MP4 to transfer audio wirelessly to a powered speaker, subwoofer, active amplifiers, soundbar, or home stereo.
Very easy to use, connect the transmitter to your TV, connect the receiver to your home stereo, connect these two to the power source, wireless transmitter receiver will automatically turn on and automatically connect. 1Mii wireless transmitter receiver set supports 2.4GHz technology and contains antennas that can reach 320 feet (100m) outdoors and 100-200 feet (30-50m) indoors. You can enjoy music throughout the house without worrying about audio loss or cut-out.
This device is designed to send a signal from the transmitter connected to an audio source via a cable to a receiver connected to a powered speaker, mixer, or amplifier also connected via a cable. Wireless audio transmitter and receiver support 2.4GHz, the delay is less than 20ms. It can stream high-quality audio up to 24bit / 192kHz, better than CD quality. The received sound are clear, stable, noise-free, audio synchronization.
Strong anti-interference, no matter at home or office, you can enjoy excellent audio and video quality. If you want to listen to music on the wall speaker or backyard speaker but don't want so many cables, a wireless audio transmitter and receiver give you the best solution to connect your Subwoofer / CD Player / PC / MP4 /speaker and your home stereo wirelessly.
Dual RCA cables are not included. Note: In order to save power and environmental protection, and to avoid squelch caused by signal interference. When not using this product, please unplug the power cord of the transmitter. Wireless audio transmitter can connect with any audio source that has 3.5mm aux and RCA output.
The receiver can connect with any home stereo, speakers with 3.5mm aux and RCA input. Any product you return must be in the same condition you received it and in the original packaging. We usually respond within 24 hours on weekdays. Thank you for shopping at our store.