100ft HDMI 4K@30Hz over Wireless Transmitter / Receiver Kit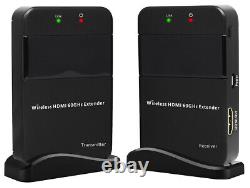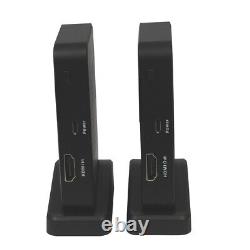 The HDMI 4K over wireless 60G extender can transmit 4K content without any compression and latency to an HDMI display up to 30 meters. It also supports 3D, CEC and 7.1-channels of High Bit Rate (HBR) lossless digital audio such as Dolby TrueHD, DTS-HD Master Audio. The Wireless HD is specifically designed to transmit high definition video & audio within one room. Only ONE kit (1 transmitter / 1 receiver) should be used in one localized area. This system only supports output to a SINGLE TV. However, you can use a standard HDMI splitter at the destination location and continue your distribution using standard HDMI cables. HDMI 1.4b, HDCP 2.2 compliant. Up to 7.1 channels HD audio. Uncompressed 4K Video & Audio. Wireless extension up to 30 meters / 98.4ft. Simply plug-and-play for easy connection.
Includes necessary 2x 5V/1A USB Power Supplies (CE/FCC/UL) and cables. 2 short HDMI Cables (1 needed each at the SOURCE and DISPLAY) NOT included. Estimated ACTUAL Quantity Available: 37.